Mel joined Quayside in January 2021 – almost one year later she is still relishing her role as Corporate Services Manager, leading the people & culture, Marcomms and business planning functions.
Seeking a lifestyle of outdoor adventures and blue skies, Mel's family left ol' Blightly many moons ago, settling in Hamilton where Mel and her older brother enjoyed a classic, humble N.Z upbringing.  With a panache for languages in her college years, she completed a degree in Japanese and International Studies at Waikato University with an eye on a diplomatic career.  On completion, a change of heart led her to a post-graduate degree in Human Resources, followed by four years working for AgResearch as HR Advisor.   This role remains a highlight of her career – working with a great team of people, supporting scientific research to assist NZ's primary industries.
In 2004, Mel headed to Europe to travel via Asia, finally ending up in London taking up a contract role for OneTel focusing on a significant period of change management for them.  After travelling throughout Europe, she returned home to N.Z for a short while before making the move to the sunny shores of the Gold Coast, Australia.
Australia was home for 15 years with her hubby, Mike – she may have even acquired a slight Aussie twang, which we are happy to report is now long gone – jandals and chilly bins have made a comeback!
Mel has held a number of senior executive HR and operational roles in large organisations in Queensland before the travel bug took hold once more this time with 7-year-old son, Ethan, in tow.  They travelled throughout Europe for 18 months while working remotely, seeing the Northern Lights in Norway, the glorious islands of Greece and some great surf in Indonesia.
Over this time, Mel stretched out from pure people roles to work for BLK Global as Business Improvement Director as well as Chief Operating Officer for another sportswear company.  In 2018, Mel decided to go out on her own, starting HR Unplugged, a HR and business consultancy.  One of her larger projects at this time was project managing a brand start-up and launch for an Australasian company, as well as helping clients navigate through the tricky times of COVID.
With the call of home beckoning, Mel saw our role as Corporate Services Manager with a focus on people, business planning and Marcomms as a fantastic opportunity to work for an organisation that delivers a greater benefit to the community.
Mel's family have since bought a slice of avocado orchard paradise on the outskirts of Katikati – a chance to set down roots, enjoy our beautiful beaches, jump on their mountain bikes, reconnect with the N.Z outdoors and immerse themselves in their collective love of all things rugby.
And to rival Sam's off-sider, Winston the Dog – she has Beaudy, the Red Dog.  He and Winston are still making friends!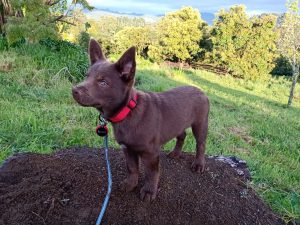 Mel strives to tread lightly on the environment, making conscious decisions about the impact she and her family have on the whenua.  In regards to her chosen career, Mel said she enjoys "creating opportunities for people to grow into the best version of themselves, even if they don't yet know it".
Mel's core values, positive, fun outlook and sense of adventure are a strong match to Quayside's values – positive people, bold initiatives, impactful outcomes.